Los Angeles Magazine: Army of Supporters at Suspended Councilman Mark Ridley-Thomas's Trial Is No Match for Jury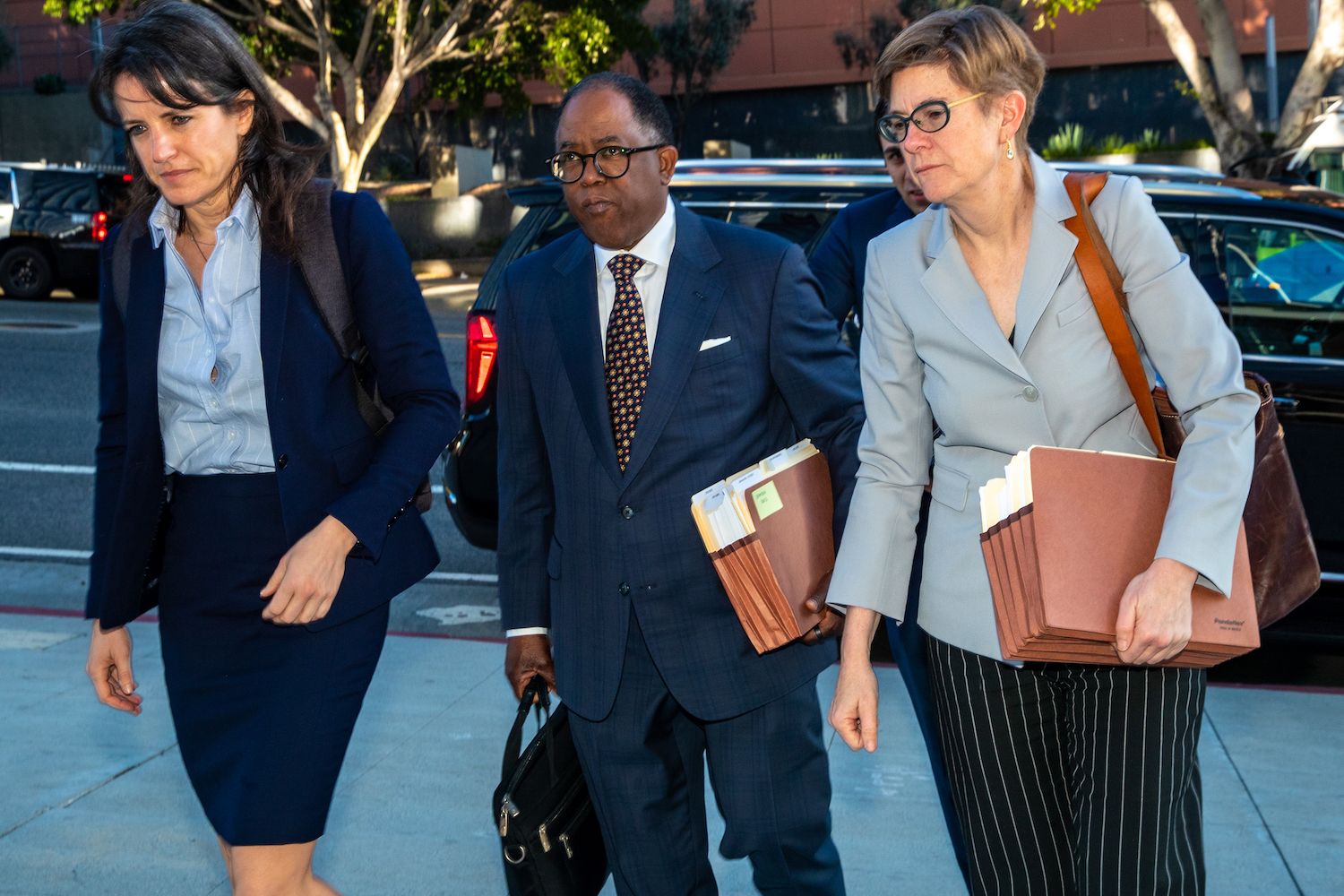 Cityside Column: The veteran politician faces his greatest fight in a Downtown courtroom
By Jon Regardie - March 22, 2023
The most striking scene inside room 7D of the gleaming federal courthouse in downtown L.A. is not the table where the defendant and suspended City Councilman Mark Ridley-Thomas sits alongside a row of powerhouse attorneys. Nor is it the line of savvy U.S. Department of Justice prosecutors facing them, or the jury that seems strikingly young; nor is it the woman sitting above it all in a high-backed chair, Judge Dale S. Fischer, who may have become one of the world's foremost insult comics, had she pursued that career (more on her later).
Rather, it is the veritable army spread across the wooden benches behind where Ridley-Thomas sits. On Tuesday, more than 30 people showed up to support the man who has spent three decades in a range of elected posts. These longtime city ties run deep—I saw in the court Ridley-Thomas's friends, former employees, and a private-sector figure who worked with him in the mid-90s when, while first on the City Council, he played a lead role in getting Staples Center approved. And some other supporters have known the councilman suspended after being accused of bribery and fraud far longer.
This audience might seem unimportant. It's not. It's strategic, both in how they assemble in the direct sightline of the jury and in the grander, if extremely cliché court of public opinion, as it demonstrates the network that separates this case from that of other Los Angeles elected officials who have been in the soup in recent years. This includes ex-Councilman José Huizar, who was indicted on federal charges for his role as the head of a sprawling pay-to-play scheme targeting the real estate development industry. In his case, everyone jumped ship and he eventually pleaded guilty.
By contrast, Ridley-Thomas got hit by the feds with 19 counts and his council colleagues immediately sought to push him out of office. But as I pointed out upon his indictment, if you have watched his career, then you know that he is both a to-the-mat fighter with a long record of wins and very connected with his community. Not only did he take this case to court, he saw hundreds of people show up at a multi-faith service/rally two days before his trial. Perhaps more importantly, as the Los Angeles Times reported, supporters donated $1.5 million to a pair of legal defense funds, allowing him to assemble a crack team of lawyers.
None of this is to pretend the veteran pol is in a good position. Prosecutors and FBI investigators spent years building their case against him. They allege that, while on the County Board of Supervisors, Ridley-Thomas conspired with former USC School of Social Work Dean Marilyn Flynn on a scheme to get his son, Sebastian, admitted to a university graduate school program and also receive a scholarship while receiving a paycheck via a teaching gig. They assert that in return, the supervisor agreed to direct lucrative county contracts to the school.
Prosecutors in September secured a guilty plea from Flynn (though she did not testify against Ridley-Thomas), who admitted that as part of the operation, she funneled $100,000 from a Ridley-Thomas campaign account through USC and to a nonprofit operated by his son.
It's tough competing against the unlimited resources of the federal government. Most defendants opt to settle rather than go to trial. Many of those who wind up before a jury simply lose.
The trial's opening statements began on March 8, and on Friday, the prosecution rested its case. The defense got its turn Tuesday, and in advance, emails went out urging people to "Show your support for MR-T." The messages contained tips on when to arrive, where to park and where to sit—again, strategy.
The prosecution brought an FBI investigator and others to the stand  and is using a battalion of emails to argue that Sebastian Ridley-Thomas resigned a seat on the State Assembly because of a burgeoning #MeToo investigation, rather than for health reasons, as he publicly claimed. The suggestion is that his powerful father helped find him a soft landing at USC.
The defense began attacking that pillar first thing Tuesday, with testimony from Dr. George Mallouk, who treated Sebastian Ridley-Thomas. Mallouk described a series of enduring, painful ailments, including an abscess, an infection, and a gallbladder that needs removing, with everything likely exacerbated by the stress of the job. There were discussions of ointments and wound drainage.
"I felt he wasn't healthy," Mallouk said on the stand. He recalled that they discussed the younger Ridley-Thomas resigning from the Assembly, though on cross-examination prosecutors questioned why such an option was not mentioned in 800 pages of medical records.
Then came a series of government workers, including former L.A. County CEO Sachi Hamai, and Karly Katona, who worked for Ridley-Thomas for a dozen years; she would later join his City Council staff.
It's hard to know what the full defense strategy will be after a single day of testimony, but a recurring theme Tuesday was that, no matter how hefty one's political muscles, you can't simply jam through a six-figure contract to a favored stakeholder. Instead, lawyers used witness testimony to describe the mundane, months-long bureaucratic process of doing research, crafting and filing motions. They sought to explain that when money goes out the door, it is not because of an emperor-like thumbs up, but rather a vote from the five-member board of supervisors.
A lot is riding on emails, whether exchanges between Ridley-Thomas and Flynn, or others to the staff at USC and people with the County Department of Mental Health. Numerous messages have been shown to the jury, with the prosecution and defense both using excerpts to gain the advantage. This could win up to a sort of legal, "you say potato, I say po-tah-to." The cascade of emails might mean the feds have a paper trail proving guilt. Or, all they have is a bunch of emails and no one with inner knowledge blowing the whistle.
Actually, the messages do show one thing: Ridley-Thomas really likes to use emojis in his emails, especially ones with faces that smile or wink. It may be unfortunate, but I don't think you can send someone to prison for it. Yet.
The coming testimony and closing arguments should be watched closely. So should Fischer, who is fascinating. It takes about 15 seconds to realize that she accepts zero BS and doesn't suffer fools in her courtroom. Her tone in the green chair can be described as withering. I fear for any kid who steps on her lawn.
There is a reason for the approach—she doesn't want anyone wasting even a moment of the court's time. In an early morning Tuesday discussion with the legal teams she told one attorney, "You stopped me in the middle of my sentence," and blitzed another with, "Please don't tell me things I know." Later, after she called a break and the jury filed out, she asked a different attorney who had been questioning a witness how much longer he would take. After the response, she hit him with, "Let's get through this. It's really boring."
For all her sternness, Fischer did end the day on a bright note. As the jury prepared to leave she instructed them not to discuss the case, then said, "You're ordered to have a good evening."