Witness LA: Deconstructing The Conviction Of Mark Ridley-Thomas – Part 4: The Trial Penalty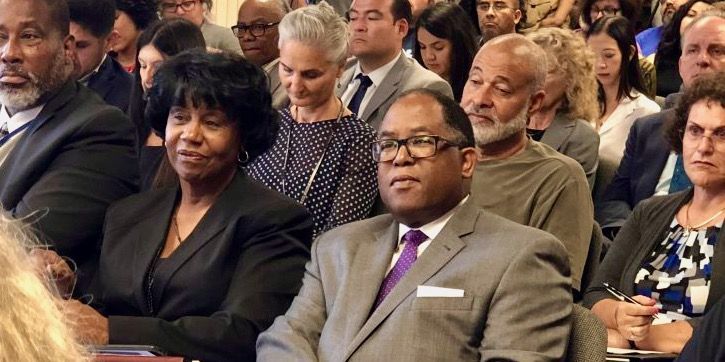 August 9, 2023 by Celeste Fremon
On Monday, August 21, Mark Ridley-Thomas and his team of defense attorneys will come before U.S. District Court Judge Dale S. Fischer in order to persuade the judge that Los Angeles County's long-time and much revered policy maker should not be sentenced to any prison time.
Also on Monday, the government's team of prosecutors will explain to Judge Fischer why they believe that the former state senator, former assemblyman, former member of the board of supervisors, and twice-city council member should serve a 72-month term of incarceration—in other words, six years in a federal prison—plus three years of supervised release, and a fine of $30,000.
The upcoming sentencing hearing pertains to the fact that, on March 30, 2023, Ridley-Thomas was found guilty of seven of the 19-counts for which he was indicted on October 13, 2021.
The series of charges had to do with an alleged bribery and corruption scheme in which, according to the prosecution, Ridley-Thomas steered a series of lucrative county contracts—and, in one instance, a potentially multi-million dollar contract amendment—to USC's Suzanne Dworak-Peck School of Social Work, through the conduit of Marilyn Flynn, who was for more than two decades the school's highly respected dean.
At the time of the alleged federal law-breaking, however, Flynn was approaching 80-years-old, and dealing with some cash flow challenges at the school she ran, which didn't tend to produce wealthy alums.  At the same time, she was reportedly facing other challenges with underlings who very much wanted  her to retire.
The federal indictment, which originally listed 20 counts, alleged that Flynn and Ridley-Thomas, who was at the time a member of the LA County Board of Supervisors, were co-conspirators in the alleged quid pro quo strategy.
(By the time that Ridley-Thomas got to trial, the charges had been reduced to 19 federal counts, rather than 20.)
Slightly over two weeks ago, on Monday, July 24, Judge Fischer sentenced former dean Flynn to 18 months of monitored home confinement, plus three years of probation. Flynn must also pay a fine of $150,000.
This means that, for the next year and a half, the now 84-year-old former dean cannot leave her house and/or yard except for medical reasons, or to attend court or engage in other legal matters. Any other exceptions to her condition of confinement must be approved by the court.  She will be subject to a monitoring system to make sure she does not violate these restrictions.
At her sentencing hearing, the former dean was dignified in her repeated expressions of contrition.
"I'm really greatly embarrassed to be here today," she said. "I'd never imagined that the culmination of my career would be here. I deeply regret my actions and the distress it has caused USC and others."
In deciding on the sentence, the judge said she was influenced by Flynn's "lifetime of public service" which was "reflected" in the nature of the letters sent to Judge Fischer's office by friends, colleagues, and others whose lives the former dean had affected.
They were "of a quality," said the judge, "that the court does not often see."
Yet, bribery of public officials is a very serious offense, said Fischer.
The outcome of Flynn's hearing was mostly expected. Still, the morning in court contained a few jarring moments.
The most notable of these came when Vicki Podberesky, one of Flynn's two attorneys, requested a curfew for Dr. Flynn instead of complete home confinement.
Judge Fischer gazed for a beat at Podberesky before answering.
"I seriously considered imprisonment," Fischer said finally. "I take it she prefers not to go to prison?"
"That's correct, Your Honor," said Podberesky, as many of the observers in the courtroom visibly tried not not to react to the prison reference.
Fischer said she would, however, waive any regular drug testing for Flynn, adding that she thought the former dean posed "a low risk for future substance abuse."
The mention of prison time, which even the prosecution had not suggested in their sentencing recommendations for Flynn, seemed as if it might point beyond itself to suggest what kind of sentence the judge would consider for Ridley-Thomas.
But before we go deeper into the topic of sentencing, it helps to look at the two different legal roads Flynn and Ridley-Thomas traveled after they were charged.
To plead or not to plead

A few days after Mark Ridley-Thomas and Marilyn Flynn were indicted by government prosecutors on Oct 13, 2021, each of the defendants pleaded not guilty in a virtual arraignment.

Eventually, after the initial pro forma not-guilty pleas, government prosecutors approached Ridley-Thomas's attorneys with a plea deal.  

It is arguably likely that the prosecutors expected Ridley-Thomas to eventually take a deal, as a list of other local office holders and LA officials had recently done.

There was, for example, the federal bribery and corruption case against former Los Angeles City Council member, Mitchell Englander who, in March of 2020, pled guilty to lesser charges and received a sentence of 14 months in a federal prison, and paid a fine of $79,830.

Then, in December of 2021, David Wright, the former general manager of the Los Angeles Department of Water and Power, rather than going to trial, pled guilty to a federal charge for accepting high ticket bribes in a multi-million dollar pay-to-play scheme.

A month before, in a related case, attorney Paul Paradis, an ex special counsel for Los Angeles, had agreed to plead guilty to a single federal count of bribery for accepting a nearly $2.2 million kickback for arranging a lawsuit against the LA Department of Water and Power.

And in January of this year, former LA County Council member, Jose Huizar, took a plea deal rather than continue to fight federal racketeering charges from 2020, in which government prosecutors alleged he received $1.5 million in bribes from local real estate developers.  He has yet to be sentenced.

But what if you are charged with federal crimes that you, and a growing number of friends, colleagues, supporters, and a list of other county employees, maintain you didn't commit?  

And what does a plea deal say to more than 30 years worth of constituents?

In any event, for MRT—as Ridley-Thomas is called by friends and colleagues for verbal convenience—the idea of a plea deal was a non-starter.

When the feds approached Ridley-Thomas's attorneys, their client reportedly issued a definitive no.

He never considered taking a deal, several people who know Ridley-Thomas well, told us privately.

Either after the feds reached out to MRT, or concurrently, they also reportedly approached Marilyn Flynn through her attorneys.  As we now know, on September 15, 2022, nearly a year after the original indictment, former dean Flynn did choose to plead to one count of bribery.

Those we interviewed who know Flynn, described her decision, while painful, as understandable given her age at the time of the plea deal (83), and the fact that she'd been forced out as dean, so she had nothing on that front to lose.

And a trial, even if all goes well, is both stressful and expensive, as MRT cannot help but continue to experience at ever greater depth, as his legal journey continues.

Furthermore, the government agreed to recommend a sentence of home confinement for Flynn, but no prison time, with the one caveat that it was the judge who had the power to make the final decision.
"She hasn't tried to minimize her actions," the prosecution told Judge Fischer during Marilyn Flynn's July 24 sentencing hearing.
In the feds' sentencing memo of August 8, in which the prosecution recommended the six year sentence for Ridley-Thomas, they wrote at length about the desirability, morally and fiscally, of the former dean's choice to plead, as opposed to Ridley-Thomas's decision to go to trial, which they criticized at length.
"Flynn took ownership," the prosecutors wrote.  "She accepted responsibility, pled guilty months before trial, and even provided the government with incriminating information about her conduct that previously was unknown to the government."
(More on that later.)
"In doing so," wrote the prosecution, Flynn "preserved substantial government resources by choosing to accept responsibility in an early and extraordinary manner without proceeding to trial."
And then there was this:
"She has not," they wrote of Flynn, "in legal briefs or otherwise, attempted to shift blame or cry foul about her prosecution. She expressed genuine remorse and has not cast herself as a victim."
(As opposed to, one presumes, Ridley-Thomas, whose lawyers filed a Rule 29 motion, and a Rule 33 motion, two common post-conviction motions, which we described in Chapter 2.  And those same lawyers reportedly plan to file an appeal, post sentencing, with the 9th Circuit.)
Flynn's contrition, concluded the government, "not only shows an acceptance of responsibility but also that she is less likely to reoffend."
(Plea bargaining prevents recidivism? At the risk of sounding quarrelsome, research suggests otherwise.)
The defendant, Ridley-Thomas, "cannot say the same," wrote the prosecution.  "His and Flynn's behavior post-indictment could not be more diametrically opposed."
Weirdly, the prosecution's personal criticism of Ridley-Thomas in their sentencing memo extends to his supporters.
"Community groups and media personalities with ties to defendant encourage the public to discount the verdict," the government wrote on page 18 of their memo.

"For instance, one group encourages the public to attend court hearings to 'illustrate community skepticism about the verdict,' and repeats defendant's claim that his conviction was based on 'false testimony.'"

To illustrate, government prosecutors took the time to link to several tweets by supporters of MRT that they evidently found objectionable.
The trial penalty
The right to a trial by jury is enshrined in the Sixth Amendment to the U.S. Constitution, and also in Article III, Section 2 of the Constitution itself. ("The Trial of all Crimes, except in Cases of Impeachment, shall be by Jury.")
Thomas Jefferson had this to say on the matter:  "I consider [trial by jury] as the only anchor ever yet imagined by man, by which a government can be held to the principles of its constitution."
Yet, according to a 2018 report by the National Association of Criminal Defense Lawyers (NACDL), the jury trial has become such a rarity it is teetering at the edge of extinction.
"Over the last fifty years", wrote the NACDL authors in their report, "trial by jury has declined to the point that it now occurs in less than 3% of federal criminal cases."
(In state cases, that figure hovers at around 6%.)
Thirty years ago, federal defendants chose to go to trial at least 20% of the time.
Now, there is a stack of evidence that criminal defendants—both at the federal and state levels, whether innocent or guilty—are being coerced to plead guilty because the penalty for exercising their right to a trial, if they lose, is simply much too high to take the risk
"Plea bargaining as currently practiced is often unjust, unfair and lacks transparency," writes the American Bar Association of a February 22, 2023 report on the topic released by the ABA's Plea Bargain Task Force.
The report has a great deal to say about what is known as the trial penalty.
All of this brings us back to the case of Mark Ridley-Thomas.  And his upcoming sentencing.
The calculus of sentencing
In a federal case, there are three primary entities that are empowered to make sentencing recommendations to a judge.
There is the prosecution, of course, and the defense. In addition, the Federal Probation  & Pretrial Services Office makes a Pre Sentence Report (or PSR) for the judge.
While Probation's set of recommendations are not publicly filed, we can gather much of what the PSR contains from what the defense and the prosecution has written in their respective responses to the report.

Most importantly, it appears that, instead of calling for a sentence of six years or more, Probation's report recommends 18 months prison time for Ridley-Thomas, plus a year of supervised release, which is far less time than experts we spoke with had originally expected.

According to the defense, in the PSR, the Probation Officer found that "neither Dr. Ridley-Thomas nor Dean Marilyn Flynn exerted any authority or control over the other, that their involvement was mutually beneficial, and their culpability was similar."

In the government's sentencing memo of last month to Judge Fisher regarding former dean Flynn, the prosecution took a very different position.  In that memo, unlike Probation, they described Flynn—who had been characterized as a co-conspirator in the original indictment—as Ridley-Thomas's victim.

In the prosecution's sentencing memo released Monday that asked for the six year prison term for Ridley-Thomas, the government appeared to consider the longtime policy maker as solely responsible for any and all alleged corrupt actions by Flynn.
"This was a shakedown," the feds wrote at the new memo's opening. "Not the kind in movies with bags of cash or threats of force. But the kind that is polite and pervasive. The kind that happens too often by sophisticated, powerful people. The kind to which society, sadly, has become so accustomed that it often goes unreported and rarely yields consequences for the offender but strikes a devastating blow to the integrity of our democratic system.
"Defendant Mark Ridley-Thomas shook down Marilyn Louise Flynn."
Meanwhile, in the required sentencing memo from the defense, in the course of making the case that their client should have no prison time, Ridley-Thomas's team described the more than 130 letters of support from friends, supporters, family members, and former employees that would be making their way to the judge.
Yet, in the defense team's analysis of the PSR, they wrote that, despite Federal Probation's lower-than-expected suggestion for 18 months of prison time, Probation wrongly calculated the value of the contract that is at the center of the prosecution's case.

"This in turn," wrote the defense, "adversely affected the PSR's sentencing calculation."

The contract in question is LA County's 2016 contract with USC's School of Social Work, known as the Telehealth contract, which was up for renewal in 2018, and was a contract that Dean Flynn very much wanted the county to renew.
To better understand what both sides will claim on the day of sentencing, it helps to examine the government's portrayal of the Telehealth contract, and the other two reportedly lucrative quid pro quo deals that Ridley-Thomas allegedly offered to Marilyn Flynn, and what she allegedly did for him in return.
More on that in Part 5.
This article was originally posted to Witness LA