LA Times: Donors step up to help defend Ridley-Thomas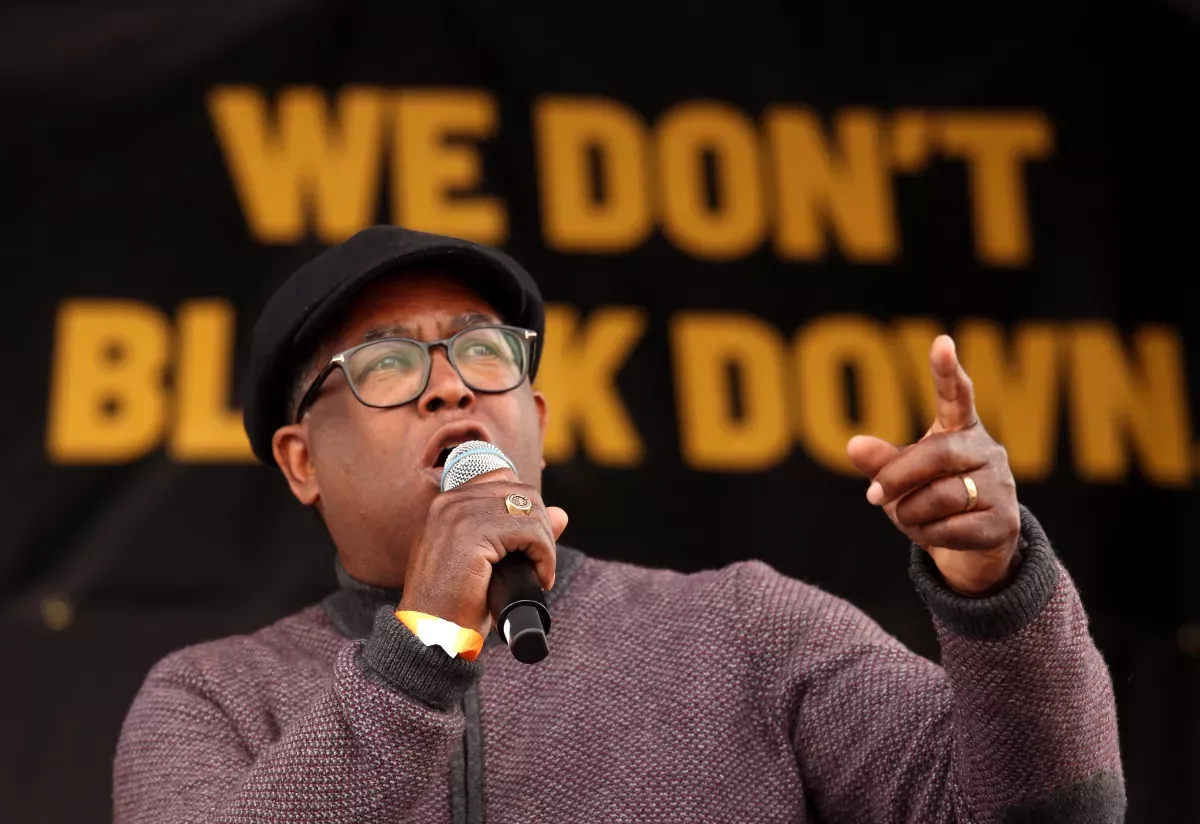 BY MATT HAMILTON, KATIE LICARI
MARCH 6, 2023 UPDATED 6:10 PM PT
When a federal grand jury indicted Mark Ridley-Thomas on corruption charges, the veteran Los Angeles politician protested his innocence and vowed to fight.
There was one problem: How would he pay for his lawyers?
Ridley-Thomas had few assets beyond his home and a rental property in Leimert Park. The lifelong civil servant lost his income after the City Council suspended him, and the city controller halted his salary and benefits. And under city rules, he could not find another job without resigning from office.
Then a network of supporters opened their wallets.
During the 16 months since criminal charges were unveiled, these donors have helped him amass nearly $1.5 million in two defense funds and allowed him to retain an elite legal team that has won courtroom victories for Google, Activision Blizzard and Kaiser Permanente.
Among the donors are former Dodgers owner Frank McCourt ($25,000); fellow L.A. City Councilmember Curren Price ($1,000); Charles E. Blake, presiding bishop emeritus of the Church of God in Christ ($10,000); Bruce Karatz, former chief executive of KB Home ($10,000); and a slew of developers, ministers, bureaucrats and lobbyists or those affiliated with lobbying firms.
The contributions range from $150 from a Thai restaurant in Windsor Hills to $75,000 from his most generous backers, producer and investor Peter Chernin and his wife, philanthropist Megan Chernin.
Carol Biondi, a longtime supporter of juvenile justice reform and the widow of former Viacom and Universal Studios chief Frank Biondi, said she "eagerly contributed" $30,000 to Ridley-Thomas' defense fund because of his "ferocious" advocacy.
"Having been his friend for more than 15 years, I believe in him, his innocence, and am confident he will be exonerated," Biondi said.
The breadth of support underscores the deep ties Ridley-Thomas has cultivated across the city and the high stakes for the once-mighty lawmaker. At a trial scheduled to begin Tuesday and last through early April, he faces up to decades in prison if convicted, along with the demise of his career and an enduring stain on a legacy of advocating for the Black and brown communities in L.A.
"I can't do this without your help," Ridley-Thomas said in an email soliciting donations to one of his defense funds last spring. "You know me. You know my heart. You know I wouldn't be asking if I didn't need you now."
Ridley-Thomas was charged with 19 counts, including conspiracy, bribery and fraud as part of an alleged scheme to steer Los Angeles County contracts to USC's social work school in exchange for a host of benefits to his son, Sebastian. USC's former social work dean, Marilyn Flynn, was also charged in the scheme.
With his insistence on taking his case to a jury of his peers, Ridley-Thomas stands apart. Two other City Council colleagues accused of corruption, Mitch Englander and Jose Huizar, pleaded guilty. His codefendant, Flynn, also pleaded guilty in September and awaits sentencing.
Of the more than 63,000 federal criminal cases that were resolved in 2021, more than 90% ended in a guilty plea, according to the federal Bureau of Justice Statistics. The data show that the vast majority of cases that go to trial result in convictions. For many, trial is a gamble not worth risking, given the potential of a lengthy prison sentence and the high price of private attorneys.
And Ridley-Thomas' defense team is pricey.
For most of his time before trial, he has relied on a team of lawyers at a boutique Silicon Valley law firm, Durie Tangri, that has represented Genentech and other deep-pocketed biotech companies and defeated Novartis at trial for infringing on a skin cancer treatment drug. Two months ago, Durie Tangri merged with San Francisco-based Morrison Foerster, one of the nation's top firms, and even more lawyers from that firm joined the Ridley-Thomas team.
Despite the sizable sum raised by Ridley-Thomas in his defense fund, experts said it would still cover only a fraction of his expected legal bills, which would run well into the seven figures whether he wins or loses.
Ridley-Thomas has at least six lawyers for his trial, including three firm partners, who probably command about $1,000 per hour — and often more. Adding to the cost: Most of his lawyers are based in the San Francisco Bay Area and would need hotels, meals and transit for a four- to six-week trial in L.A.
"It would cost a couple of million dollars — minimum," said Peter Zeughauser, a Newport Beach attorney who advises international law firms on strategy. Several L.A. attorneys put the price tag at $3 million to $5 million, not including the 16 months of legal work the council member's defense team has already put into the case.
Records of his legal defense fund show Ridley-Thomas already paid $765,000 to his criminal defense attorneys at Durie Tangri through the end of 2022. Between his two defense funds, more than $1 million comes from loans Ridley-Thomas made himself. The source of that money is unclear, but property records show he refinanced his home and rental property in 2022.
Experts cautioned that defendants such as Ridley-Thomas could also be relying on other sources of money, including from family members, to pay attorneys. Filings for bills paid this year won't be available until the summer.
Many donors reached by The Times singled out Ridley-Thomas' work on public health and child welfare issues. And several supporters acknowledged knowing little about the underlying criminal case.
"I don't know the facts. I don't want to know facts," said Fred Rosen, former CEO of Ticketmaster, who pitched in a total of $4,100 and said his relationship with Ridley-Thomas extends over 30 years. "He's a friend, and you stand by your friends when they have issues."
Thomas Safran, an affordable-housing developer in Brentwood who gave $6,600 to the defense funds, also said, "I don't know the details of what's gone on." But he was effusive over Ridley-Thomas, adding, "I think the world of him."
Safran said he met Ridley-Thomas at President Obama's inauguration in 2009, and the two sat next to each other and chatted for more than an hour in the frigid weather.
"I find he really cares. And I believe everyone is innocent until proven guilty," Safran said.
Some donors are lobbyists or affiliated with lobbyists, including Howard Sunkin. His lobbying firm, which donated $2,500 in 2021, represents several developers and other companies with business before the city, including the owners of Television City. The wife of Arnie Berghoff — whose firm lobbies the city council for ambulance operators, waste-management companies such as Athens, and businesses seeking contracts at Los Angeles International Airport — also gave $2,000.
Asked why she donated that much to Ridley-Thomas or whether someone asked her to, Linda Berghoff said, "I can't remember." The donation, she said, came about because "I wanted to help him as a friend."
Prominent L.A. lawyer Patricia Glaser gave $5,000 to the defense fund. Glaser is not a lobbyist, but her Century City law firm, Glaser Weil, is registered to lobby for a slew of developers as well as the owner of the Beverly Center.
"I have found Mr. Ridley-Thomas to be a dedicated public servant, and my contribution to his legal defense fund reflects my regard for him and the work he has done for the city," Glaser said in an email.
California voters allowed politicians to raise money in defense funds in 2000 when they approved Proposition 34. The funds let officials crowdsource the legal costs for defending against criminal, civil and administrative actions.
"Public officials had said, 'I'm being sued — I should be allowed to raise money for the defense of it,' " said Bob Stern, former general counsel of the Fair Political Practices Commission and coauthor of the Political Reform Act. "It's not a legal defense fund for murder or robbery. It's for actions they took as a public official."
Ridley-Thomas has said he was in particular need of donations after then-L.A. City Controller Ron Galperin revoked his pay and benefits. "Because I won't give up my seat and turn my back on my constituents, I am prohibited from earning outside income," he told supporters last year. "At the very moment I really need resources for my legal defense."
Because of campaign finance rules, Ridley-Thomas has two defense funds. One has been focused on fighting his suspension from the City Council and the loss of pay and benefits and is subject to a $1,600 per person contribution limit imposed by the city.
But his other fund — set up to defend against criminal charges arising from his time as an L.A. County supervisor, is not subject to the city's donor limits.
The state's rules allow Ridley-Thomas to collect unlimited donations from those with business before the city. That means if Ridley-Thomas is acquitted at trial, he could return to City Hall and vote on issues directly related to those same big-money donors. His final term ends in December 2024.
A spokesman for Ridley-Thomas did not respond to questions for this article.
In public, Ridley-Thomas has struck a defiant and proud posture. Last week, he appeared at a luncheon at the London Hotel in West Hollywood honoring prominent Black journalists in the region and at one point embraced Mayor Karen Bass. Many in the crowd prayed for him, according to attendees.
But Ridley-Thomas has described the pending case and suspension from City Council as "humbling and humiliating" in an email to supporters last year. Among his donors are some with firsthand dealings with a high-profile federal prosecution.
Karatz, the former CEO of KB Home, was convicted in 2010 of lying about stock-option backdating and later sentenced to house arrest at his Bel-Air mansion.
Karatz did not say what role his own experience of the criminal justice system played in his decision to give $10,000 to Ridley-Thomas' defense in July. In an email to The Times, he called the sum "a small gesture of my personal appreciation for what Mark has contributed to our city."
"It pains me to see him go through this current legal process," Karatz wrote.