June 26 Hearing to Determine if Ridley-Thomas Gets New Trial, Night of Compassion set for June 23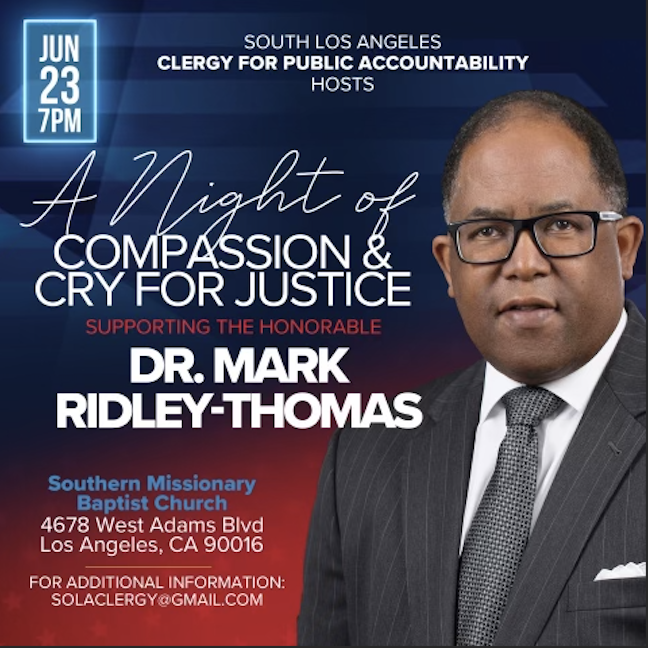 June 8, 2023 | lafocus
On June 26, attorneys for Mark Ridley-Thomas will argue two motions before Judge Dale S. Fischer in a downtown L.A. courtroom to reconsider the jury verdicts rendered in March and grant him a new trial.  Prerequisite to Ridley-Thomas' August 21 sentencing and appeal, the motions—Rule 29 and Rule 33—assert that the prosecution's case relied on false testimony and an incomplete investigation of the facts by the FBI's lead investigator and government's star witness.
The motion for the new trial, referred to as a Rule 33 motion, argues that the jury's decision in March to convict Ridley-Thomas on seven of 19 counts—conspiracy, bribery, honest services mail fraud and four counts of honest services wire fraud—was likely driven by Agent Adkins and his false or misleading testimony. During his testimony Adkins falsely testified about a Telehealth contract extension and incorrectly misrepresenting an interview by the FBI with John Sherin, former head of the County's Department of Mental Health.
"Agent Adkins' false statements therefore created the only pathway for the jury to infer that support for the Telehealth amendment was it genuine, which bears directly on Dr. Ridley-Thomas's intent," according to the filing. The defense team also called out the government's improper behavior, improperly "vouching" for Agent Adkins and elicited improper testimony concerning his opinion of Ridley-Thomas' guilt.
The second motion, Rule 29, provides that "the court on the defendant's motion must enter a judgment of acquittal of any offense for which the evidence is insufficient to sustain a conviction".
Ridley-Thomas was found not guilty on 12 of the 19 charges brought against him by the government, including all fraud counts related to the USC admission, scholarship, and Professor of Practice appointment of his son, former Assembly member Sebastian Ridley-Thomas.
According to the filing, prosecutors chose not to call a single witness from the County of Los Angeles. It subpoenaed no documents from the County and presented no evidence that Ridley-Thomas received any financial benefits, simply relying on speculation to prove corrupt intent.
On Friday, June 23, supporters will hold a "Night of Compassion Service and Community Rally" for Ridley-Thomas at Southern-St. Paul Missionary Baptist Church on: 4678 W Adams Blvd, Los Angeles, CA 90016
According to host pastor, Bishop Xavier Thompson, the event is "a night of prayer, a night of compassion and another community rallying cry—that we are still in the fight, and that we still need support in more ways than one.
"June 23 has been set aside as a time when we can undergird Mark Ridley-Thomas and his beloved wife who has stood faithfully by his side," Thompson. "It is a time when we can encourage them with our presence and bombard Heaven with our prayers. It's a time when we can address the community at large in such a way that we solicit their continued involvement and financial support."
Supporters are urging those who seek justice for Ridley-Thomas to join them in court on the June 26 and are directing those who need further information to visit: www.cd10voices.com
The USA v. Mark Ridley-Thomas hearing on the Rule 29 and Rule 33 motions is being held at the United States Courthouse at 350 W First St. The courtroom is 7D on the seventh floor and the hearing is scheduled to start promptly at 8:30 AM.  
This article was originally posted to LA Focus