L.A. Focus: Tenth District Residents Consider Legal Recourse, Turn Up Heat on City Council President Nury Martinez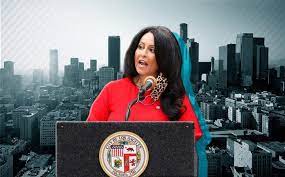 Originally published by LAFocusNewspaper.com, written by Lisa Collins.
In a strongly worded letter dated February 7, Attorney John Sweeney—who has been retained on behalf of Tenth District residents and the SCLC—informed members of the L.A. City Council and its president, Nury Martinez, that they were prepared to take legal action unless they receive "immediate and satisfactory resolution" of their concerns regarding suspended Councilmember Mark Ridley-Thomas and the disenfranchisement of their votes.
Among those concerns is that Ridley-Thomas' seat not be declared "vacant" prior to his trial and that no actions be taken to prevent the Councilmember from returning to his seat upon an acquittal.
Wrote Sweeney, "We want to be very clear that our primary goal is to ensure that the person these constituents overwhelmingly elected—not anyone you independently decide to appoint for your own reasons—continues to represent their District if, as we expect, Councilmember Mark Ridley-Thomas is acquitted of the charges against him."
The letter is one of a number of letters sent in recent days prompted by reports that Council President Nury Martinez was set to provide leadership to the Tenth District with a recommendation of an appointment to serve out Ridley-Thomas' term.
Continue reading full article here.