MRT's Compensation: A Matter of Justice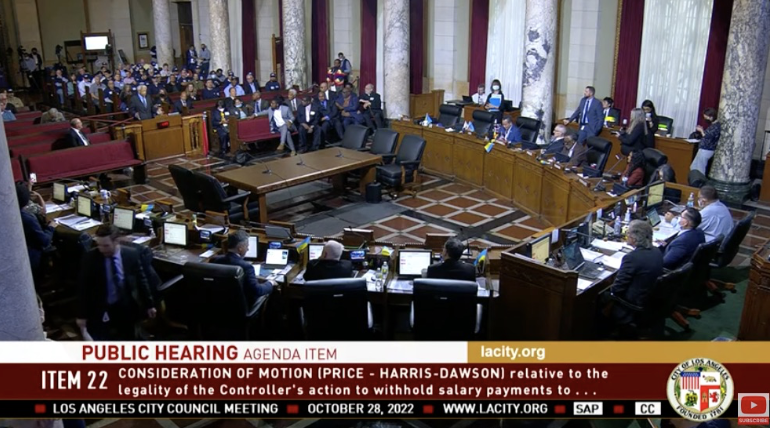 WHERE WE STAND
Mark Ridley-Thomas' Compensation
Please click here for a powerful audio presentation.
Denial of compensation to Councilmember Mark Ridley-Thomas' is a civil rights
matter that violates his right to due process, the City Charter, equal protection
under the law, the presumption of innocence and fundamental values of fairness
and justice.
Unilateral revocation of his pay by the Los Angeles City Controller was politically
motivated, precedent setting, exceeded his authority under the Charter and an
extraordinary abuse of discretionary power. The failure of the City Council to
remedy this travesty has been harmful to Councilmember Ridley-Thomas' legal
defense and financial circumstance and the City's reputation.  

It is unfortunate that Councilmember Ridley-Thomas had to sue Controller
Galperin for what amounts to the Controller's discretionary abuse of power.  The
recordings that we have all heard make clear that Nury Martinez, the disgraced
former president of the City Council, harbored racial animosity toward those of a
darker hue and was determined to damage Councilmember Mark Ridley-
Thomas, to disenfranchise Council District 10 constituents, to exploit ambiguities
in the City Charter, and to promote division within South L.A.'s Black community
in order to weaken its political power for her own politically motivated reasons.
Councilmember Ridley-Thomas has gone without compensation for over one
year with no legal justification; no actual findings of fact or precedent to support
the Controller's unilateral action; and no administrative, procedural, evidentiary,
or Council Committee hearing. The Council's reputation has been seriously
damaged by the glaring absence of transparency, due diligence, poor judgment
and leadership that values accountability, integrity, democracy and adherence to
the rule of law.
The Council must remedy this situation by exercising its authority to dispose of
litigation and directing the City Attorney to engage in settlement negotiations
aimed at expeditious resolution of Councilmember Ridley-Thomas' claims to
restoration of pay and benefits (retroactive to October 20, 2021 pending the
outcome of the judicial proceeding to which he is entitled) and reimbursement of
attorney fees and legal expenses he has incurred in this matter.