MRT's LEGAL DEFENSE TEAM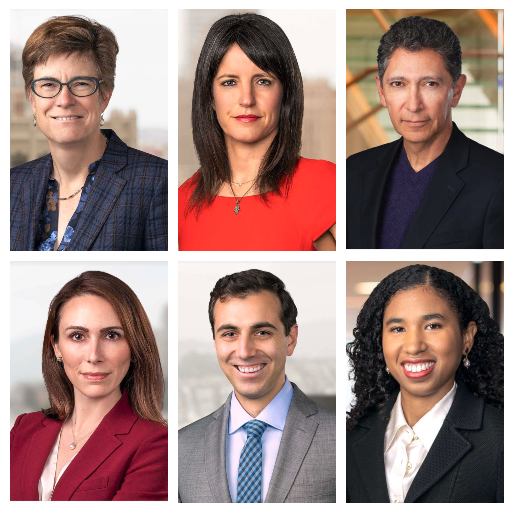 A hallmark of the Honorable Mark Ridley-Thomas' 30+ years in public service has been his ability to attract, assemble and deploy smart, competent and hardworking staff. "He has a way of getting the most out of his team," said one former staffer. Another observed, "Once you have earned his trust by demonstrating your capacity, vetting the details and grinding through the minutiae, he's been willing to let you pursue policy initiatives other lawmakers are too afraid or too lazy to undertake."
By this standard MRT's legal team is no different. The lawyers from the Morrison Foerster Law firm (known in the legal community as MoFo) are up to the challenge of taking on the Federal government and all the resources it has brought to bear.
Daralyn J. Durie, Galia Z. Amram, Arturo Gonzalez, Ramsey W. Fisher, Christina M. Randall, and  Jesse E. Lanier constitute the team proving more than a match for the tax-payer funded lawyers in the US Attorneys Office and the investigators of the FBI.
Team MRT has been able to poke numerous holes in the government's case. By highlighting the Prosecution's shoddy investigative work, the Defense has carefully laid the seeds of reasonable doubt necessary for acquittal. The Defense has skillfully exposed selective edits of emails, omission of salient facts and exclusion of exculpatory evidence in government exhibits that undermine the credibility of the Prosecution's narrative.
But the unwillingness by the Prosecution to call ANY County officials to the witness stand constitutes their biggest omission.  No senior staff of departments who could corroborate the theory that MRT pressured them or singularly had the capacity to "steer" a County contract testified. Why?
Their star witness, an FBI Special Agent was forced to acknowledge he failed to read critical documents, including the contracts in question to verify their value or potential. Why?
The Defense has estimated it could take at least two weeks to present their case. The Prosecution has a lot of ground to make up.
So far, MRT is getting his money's worth. As for the tax payers…???