MRT's Shadow Loomed Over Leaked Recordings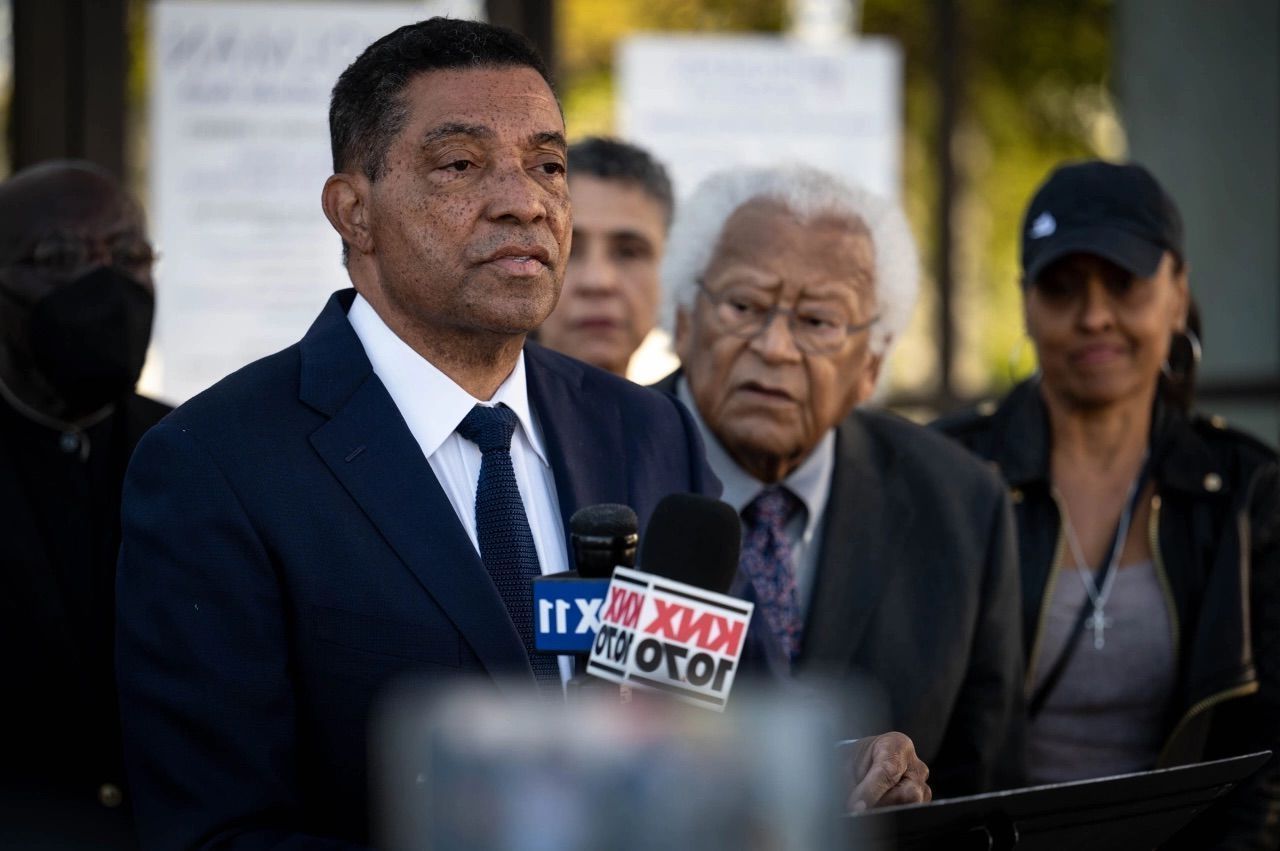 By JOHN E. SWEENEY, ESQ. 17 OCTOBER 2022
GUEST COMMENTARY - Although he was not in the room during Nury Martinez's vile rants recorded and leaked to the public last week, the specter of Mark Ridley-Thomas (MR-T) loomed large over a conversation about power, politics and representation.
The meeting likely took place between the October 13 grand jury indictment of MR-T and Martinez's motion to suspend him on October 19, 2021. The conversation highlights Martinez's assessment that the meeting participants remain silent on the issue of MR-T's compensation in a suspension scenario. She mentions that LA City Controller Ron Galperin would likely seek to deny MR-T his salary and benefits and that other white councilmembers would "motherf*ck" MR-T on that issue.
Martinez predicted what would happen and, as events unfolded, did nothing to prevent it. MR-T's subsequent suspension and denial of compensation are exercises in the discretionary use of power. Discretion is informed by judgment, facts, experience and empathy. When applied to the exercise of power, the impact on individuals and communities can be beneficial or harmful. Clearly, MR-T's shadow at City Hall influenced their thought process.
It is the discussion of the decennial redistricting process where the MR-T's shadow looms largest over the foursome's discussion. Councilman Gil Cedillo, de Leon, LA County Fed President Ron Herrera and Martinez discuss their scheming to make Council Districts 8, 9 and 10 "Latino." Martinez is most intent on preserving District 9's possession of Exposition Park, projecting that in 2026, when incumbent Curren Price is termed out, the district will elect a Latino.
In District 10, MR-T's shadow becomes even more defined. After agreeing that the South LA "corridor" could accommodate one, maybe two Black districts, the four proceed to discuss CD10's fate. Cedillo describes the profile of a successful Latino candidate who could win in CD10. Herrera argues that any MR-T replacement support the "Latino" agenda. Heather Hutt's name is mentioned. Cedillo embraces it, enthusiastically.
Even though the CD10 seat would be empty during the all important redistricting vote, Martinez would later engineer Hutt's appointment following the illegal appointment of former Councilman Herb Wesson. Both enjoyed the puzzling support of some within the Black community who surely sensed that something nefarious was afoot behind closed doors. Before the L.A. Superior Court ruled Wesson's appointment violated the City Charter, Wesson fired MR-T' staff in order to pave the way for Hutt's appointment as his chief of staff which, in turn, led to her subsequent elevation to the Council.
MR-T's absence during the redistricting debate had an impact on the map's ultimate outcome. He was the most experienced and senior of the three Black council members. Having served in office for 30 years, MR-T was party to redistricting exercises in 1990, 2000 and 2010 and his support of first time candidates include Karen Bass and Holly Mitchell. He worked tirelessly to get Curren Price elected in 2013.
The recordings corroborate what many community leaders said all along. MR-T was suspended by the City Council following the grand jury indictment for actions unrelated to his official duties as a council member. The four taped council members recognized that MR-T was the councilman with the longest record of progressive, multi-racial advocacy willing to stand up to the Council President and the crass self-serving politics she embraced and practiced.
The hasty decision to suspend MR-T weeks before redistricting was a conscious move. It eliminated Martinez's political adversary – the one best able to advance an alternate vision – and provided an opportunity for her to appoint a supplicant. The LA Times would later characterize the appointment as "back room deal" – little did they know how right they were.
In the aftermath of his suspension, the now ex-Council President's approach to name a temporary representative should now be seen for what it is: an anti-democratic, self-serving power play masquerading as Latino empowerment that was simultaneously disrespectful of CD10, MR-T, her colleagues on the City Council and City voters.
It nullified MR-T's Nov. 2020 election. CD10 voters were disenfranchised and their voting rights were violated. As the electoral anchor of CD10, Black community power was frontally assaulted while Martinez and her allies, including willing voices within the African American community, skillfully exacerbated divisions among African American leaders for their political benefit.
The tape recording in and of itself is disturbing, hurtful and evil. The depths by which three members of the City Council colluded to manipulate the Council's long-term ethnic composition must be exposed for what it is. The three plotted how best to pursue the politics of marginalization, not empowerment and of exclusion, not inclusion.
All involved in the collusion – the three council members plus the head of the LA County Fed – and others…if they exist – must come clean. Only then will the 10th District, the city's Black community and, ultimately, L.A. at-large be able to heal and move forward.
# # #
(John E. Sweeney is a veteran trial attorney who grew up in CD 10. He was elected to The State Bar of California/CLA's Litigation Section Trial Lawyer Hall of Fame)