LA Times: Ridley-Thomas corruption case built on emails: 'MRT is really trying to deliver here'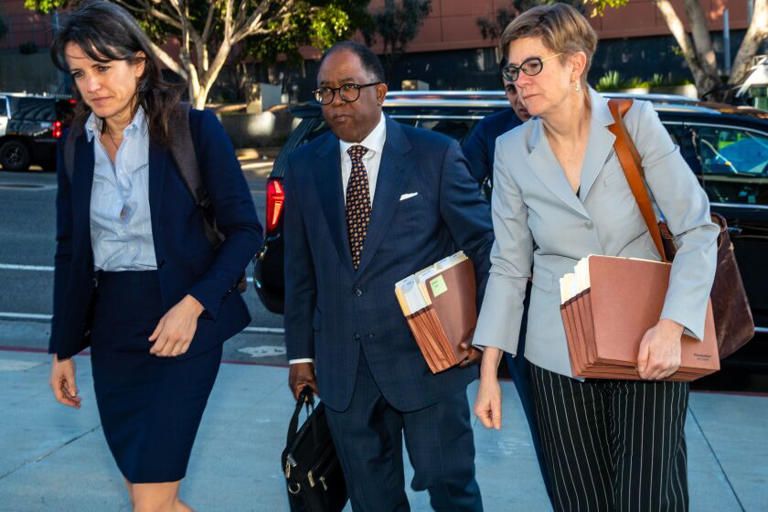 Story by Matt Hamilton • March 19, 2023 5:00 AM
Federal prosecutors finished presenting evidence in their corruption case Friday against suspended Los Angeles City Councilmember Mark Ridley-Thomas, clearing the way for the powerful lawmaker's defense to share its side of the case next week.
The case centers on votes and official actions that Ridley-Thomas took as a member of L.A. County's five-member Board of Supervisors that prosecutors allege were favorable to USC and done in exchange for benefits to his son, a former state assemblyman.
Among the benefits that Sebastian Ridley-Thomas received were admission to the School of Social Work, a full-tuition scholarship, a part-time job as a professor at USC's social work and public policy programs, and the routing of a $100,000 donation through the university to a nonprofit he was running, prosecutors allege.
Jurors in the seventh-floor courtroom have heard detailed testimony of the inner workings of USC's social work program along with efforts by former dean Marilyn Flynn to curry favor with Ridley-Thomas and maneuver around the university to accomplish her designs.
It is a public corruption case built not on wiretaps but emails, largely from Flynn to subordinates or colleagues at the university and Ridley-Thomas himself.
"I am holding my breath … MRT is really trying to deliver here," Flynn told a professor regarding a potential vote before the Board of Supervisors for a probation training program she sought.
Regarding a vote before the supervisors on a parole facility near USC that the university could partner to run, Flynn told colleagues: "I met with the supervisor recently, and we discussed the school's interest in involvement. This is exactly what I had hoped would happen."
And when Flynn wanted to accelerate the hiring of Ridley-Thomas' son, Sebastian, she wrote to Jack Knott, the then-dean of USC's public policy school: "I think in the interests of showing MRT that we can deliver, it would be provident to get the offer letter out before the holidays."
One letter stands out: a multi-page document Flynn drafted in the summer of 2017 in which she memorialized a meeting with Ridley-Thomas weeks earlier. In the memo, Flynn outlines a wish-list of sorts involving business between USC and the county. One request was to address the "stalled movement" of a contract between USC and the county's mental health department and for involvement in a parole office near the university.
That letter was printed and hand-delivered by one of Flynn's colleagues, Brenda Wiewel, who dropped it off in a sealed envelope at Ridley-Thomas' office in the county's Hall of Administration, according to her testimony.
FBI Special Agent Brian Adkins testified Friday that subsequent correspondence corroborated both the in-person meeting Flynn had with Ridley-Thomas and the veracity of the "confidential letter."
When Flynn saw later action by the supervisors regarding the parole office, she wrote to a colleague, "I talked with Mark about this, and I am very happy to see that he was as good as his word."
But in a surprising move, especially for a case that straddles a private university and a mammoth local government agency, no representative of L.A. County was called to testify before the jury.
To underscore the absence of county officials from the case, defense attorney Daralyn Durie asked the FBI agent, "Do you know what happened after Brenda Wiewel dropped off the letter?"
"No," Adkins replied.
On Friday, Dr. Jonathan Sherin — the former director of the county's Department of Mental Health — had been scheduled to testify and was even in the federal courthouse in downtown L.A.
Prosecutors had called Sherin a "critical gatekeeper" in the process for USC to secure a coveted amendment to a mental health contract — and a gatekeeper who was supposedly influenced by Ridley-Thomas. The indictment in the case alleges that Ridley-Thomas "exerted pressure" on Sherin "to perform official acts favorable to" the contract.
But prosecutors ultimately opted not to summon Sherin to the witness stand.
Nor were any current or former supervisors brought before the jury, despite the FBI agent, Adkins, indicating that an unspecified number of current supervisors were interviewed.
No deputies of Ridley-Thomas were interviewed by the FBI, nor did any testify. Adkins said that this was a "cost-benefit analysis," and that there was scant likelihood any were directly aware of the "agreement" between Ridley-Thomas and Flynn.
"Deputies," he testified, "are likely to show some level of loyalty to their boss."
This story originally appeared in Los Angeles Times.